Life & English: Little Havana in Florida
Được xuất bản vào Thứ Ba, 09/01/2018 - 01:50
Little Havana is a neighborhood of Miami, Florida, the United States. It is characterized by its street life, with restaurants, music and other cultural activities, mom and pop enterprises, political passion, and great warmth amongst its residents.
Many Cuban and immigrants from Central and South America are living in there. Miami now has a majority Latino community, with Spanish the predominant language in some parts of the city. Miami's Cuban community is centred on the Little Havana and its main drag of Calle Ocho where visitors can discover great Latino food and music. Their festivals, including the Calle Ocho Festival, Viernes Culturales/Cultural Fridays, the Three Kings Parade and others, have been televised to millions of people every year on different continents.
Cultural Fridays (Viernes Culturales) is an artistic, cultural, and social arts and culture fair that takes place on the last Friday of each month. There are now organised tours of the quarter's famous culinary highlights, from fruit stalls to ice-cream vendors, but it's wise to determine the mom-and-pop restaurants from the tourist spots. The event consists of outdoor musical performances on a stage and along the sidewalks of Calle Ocho, art exhibits along the sidewalk and in plazas and open spaces, visits to art galleries and cultural centers, films, art exhibits, and educational programs at the historic Tower Theatre, and cuisine tasting at participating restaurants.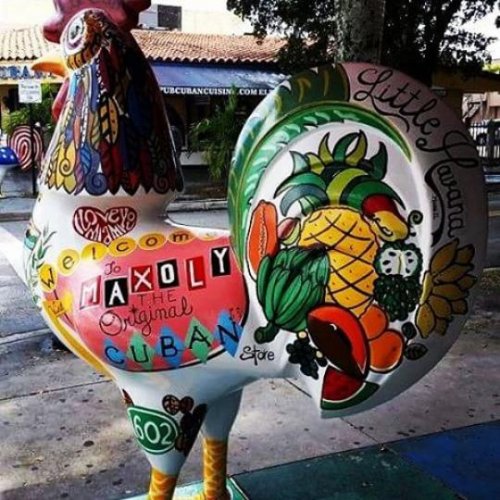 The Rooster statue in Little Havana
A special interesting point at the center of Little Havana is the very big rooster. It is the rooster statue, of course. The statue is colorful and lively like a real rooster. Many visitors took photos with this statue. What does the rooster want to say with visitors? We saw several other smaller rooster statues, too. They are dressed in different costumes. Our tour guide said that rooster was a special animal in Cuban folklore. Rooster statues create an unique interesting icon of Little Havana.
Little Havana welcomes visitors by music. Music is everywhere in Little Havana, spilling out of car windows and café radio. A warm welcome.
- Quy Minh -