Life & English: Mom-and-Pop (Part 2)
Được xuất bản vào Thứ Hai, 25/11/2019 - 00:03
When we arrived at Healthyums restaurant, a young girl was standing at the counter and a young boy, one of her three young brothers, was serving food. Their father was cooking in the kitchen. The young girl and the young boy were very nice and polite.
The menu had limited choices but their dishes were mostly organic and healthy. The menu included breakfast, lunch and dinner. Dishes were served to guests on wooden trays. The wooden trays were plain, simple and clean, without painted colors or carvings. The desserts were delicious and fresh. Guests could eat in the restaurant or take out including a nice selection of bakery items, dried fruits and artisan grains. In the restaurant, the red brick walls were decorated by small frameless paintings which were painted by the children. All of the decorations in this restaurant were very simple, clean of a rustic style. Adjoining the restaurant was a small store. Although the store was not large, it seemed to have a fascinating variety of books, clothes, tools, cards, knick-knack, etc... They were many lovely souvenirs with good prices. The upper floor of this store was the family living quarters.
After the guests were served their dishes, from the kitchen, a man wearing an apron went to greet and talk with guests. He was the boss of the restaurant, the chef in the kitchen, the father of the young girl and the young boy who were serving us dishes in the restaurant. He was the Pop of this business.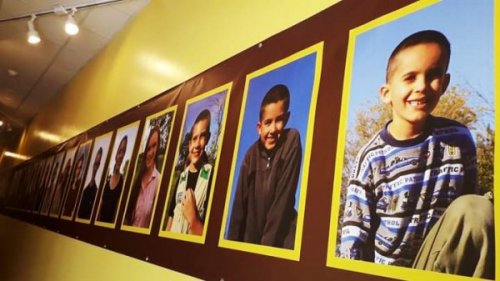 16 photos of their family
The service, the nice smiles and the fun of talking here made feeling that guests were returning to their homeland and eating in an old familiar restaurant. This feeling has not been seen in a long time for me even when I returned to Hanoi, the city where I was born and grew up. After lunch, the warmth and fun of the restaurant kept me to stay longer. I remembered books about Americans, community and family cultures in the US. They wrote that if someone wants to learn traditional American values then he or she should go to the Midwest, the heartland of the US and visit American Mom-and-Pop businesses. Here I was sitting in one in Zion, Illinois; and I was feeling the traditional values of an American family. It was great feeling.
Cuisine is not just dishes or recipes. It is also decoration of the dishes and the restaurant. It is also the welcoming, kindness by the owner and staffs. It makes guests want to come back when they just leave. I will come back to this restaurant and store to enjoy their food or buy some souvenirs.
Quy Minh