Life & English: American Holidays
Được xuất bản vào Thứ Ba, 24/12/2019 - 00:59
In the US, the year-end holiday's season begins in late October with Halloween. It is a time for people to remember their loved ones who have died, to visit the graves or to pray in the churches.
Going along with this spiritual holiday is the custom of "Trick or Treat", children dressed up as goblins, witches, dwarves… then walked together to knock on the neighbors' doors asking for candy. To ensure the safety for children, their parents also came along. The elderly grandparents put tables and chairs in the middle of the gate to see anyone passing by and called in to share the candy, not waiting to knock on the door. So "Trick or Treat" is fun occasion for children and adults, the families have the opportunity to interact with each other.
Just on time to eat all the candy "Trick or Treat" is to Thanksgiving, the most important holiday in the US. This is a family gathering; everyone working away from home is trying to return home. Thanksgiving is always the last Thursday of November and the next day is Black Friday for everyone's shopping. Black Friday is the day when stores sell off as a way gratitude to customers. Now Black Friday is no longer crowded with buyers just sitting at home ordering online, goods will be delivered to home on the next Monday, called Cyber Monday. In fact, Cyber Monday lasts all week; online ordering is cheaper than buying at the stores. If customers do not like goods then they can return them easy.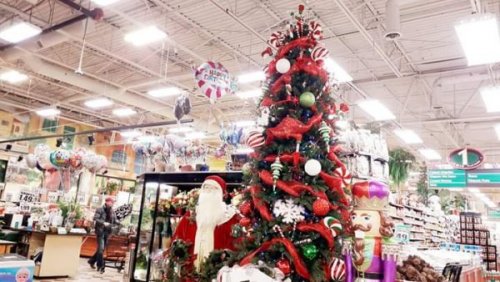 The Christmas tree in a supermarket.
The Christmas trees are usually made up on Thanksgiving Day at shops and families, creating a warm reunited atmosphere. The first of the four Advent candles is officially lit by churches on the first Sunday of December, signaling the coming of Christmas. At nights, there are sparkling decorative lights on the streets. The holiday season is long so everyone does not need hurry. Only some car wash places are crowded on the last day of the year because many people want to clean to welcome the New Year. The price of car washing is still $3 like every day and automatic washing so the car keeps lining up to go through the car wash room.
On the first day of the New Year, big stores still sell normally. Walmart stores sell 24/24. Large supermarket with children's play areas are often crowded because many families come to play, eat, shop… On the second day of the New Year, many people return to their works. Then time goes fast, soon to Valentine's Day on February 14, then to Easter; the next is outdoor festivals of summer and autumn, then the year-end holiday season of the next year…
Relaxed and gentle, the holidays and festivals in the US are opportunities for everyone to rest and share with each other joy of life.
Quy Minh