Life & English: Detroit - the City of Design
Được xuất bản vào Thu, 17/05/2018 - 00:49
Detroit is the most populous city in the U.S. state of Michigan, the largest city on the United States–Canada border. Detroit is a major port on the Detroit River, one of the four major straits that connect the Great Lakes system to the Saint Lawrence Seaway.
In 2015, Detroit was named a "City of Design" by UNESCO, the first U.S. city to receive that designation. The municipality of Detroit had a 2016 estimated population of 672,795, making it the 23rd-most populous city in the United States. The metropolitan area, known as Metro Detroit, is home to 4.3 million people, making it the second-largest in the Midwest after Chicago.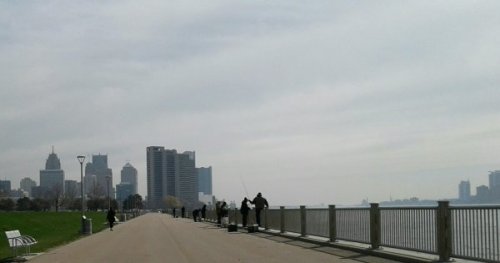 Detroit city and the border river.
Detroit and its neighboring Canadian city Windsor are connected through a tunnel and the Ambassador Bridge, the busiest international crossing in North America. Detroit is best known as the center of the U.S. automobile industry, and the "Big Three" auto manufacturers General Motors, Ford, and Chrysler are all headquartered in Metro Detroit. The Detroit Metropolitan Airport is among the most important hubs in the United States.
Visit Detroit, travelers can attend a tour " Destroit's rise, fall and renewal" to discover this city. Also, travelers can visit West Riverfront Park and experience fishing on the border river between the US and Canada. The culture of Detroit has influenced American and global culture through its commercial enterprises and various forms of popular music throughout the 20th and 21st century. Its automotive heritage plays an important role in the city's culture. Detroit's diverse culture has had both local and international influence, particularly in music, with the city giving rise to the genres of Motown and techno, and playing an important role in the development of jazz, hip-hop, rock, and punk-music.
Quy Minh