Life & English: The Ambassador Bridge
Được xuất bản vào Thứ Sáu, 11/05/2018 - 23:29
The Ambassador Bridge is the busiest international border bridge in North America. This bridge connects Detroit, Michigan, United States, with Windsor, Ontario, Canada. It is the busiest crossing on the Canada–United States border.
The bridge is made up of 21,000 short tons (1 short ton = 907.2 kg) of steel, and the roadway rises as high as 152 feet (46 m) above the Detroit River. Only the main span over the river is supported by suspension cables; the approaches to the main pillars are held up by steel in a cantilever truss structure. The bridge's only sidewalk is located on the southwest side of the structure.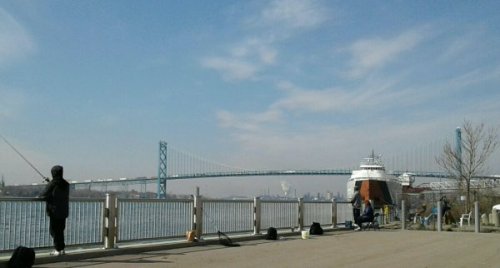 The Ambassador Bridge and fishermen in West Riverfront Park
The Gateway Project, a major redesign of the U.S. plaza, provides direct access to Interstate 96 (I-96) and I-75 on the American side and Highway 3 on the Canadian side. The Canadian end of the bridge connects to busy city streets in west Windsor, leading to congestion. A study of Border Transportation Partnership showed that 150,000 jobs in the region and US$13 billion in annual production depend on the Detroit - Windsor international border crossing. The four-lane bridge carries more than 10,000 commercial vehicles on a typical weekday. More than 25% of all merchandise trade between the United States and Canada crosses the toll bridge. The bridge carries about 70% of commercial truck traffic in the region.
West Riverfront Park in Detroit located near the Ambassador Bridge. In this park, visitors have good view to take photos of the Bridge. When we walked and took photos in the West Riverfront Park, we met fishermen. They were fishing with peacefulness and leisureliness. It seemed to be the contrary for the busy bridge, a attractive contrary for visitors.
Quy Minh