Life & English: Breaking Bread in Black History Month
Được xuất bản vào Thu, 01/03/2018 - 00:40
Black History Month, also known as African-American History Month in the US, is known as Black Achievement Month. It is an annual observance in the United States (since 1970), the United Kingdom (since 1987), Canada (since 1995), and the Netherlands (since 2016).
In the US, people organize events and activities for Black History Month. In schools, students learn about famous African Americans throughout history. Classrooms watch short videos about famous African Americans. Students and teachers can work on informative essays about Martin Luther King Jr. They create slides and present or they complete projects and activities based on historical figures. Students can research a speech that Martin Luther King made and a speech President Obama made. They can design postage stamps for Black History Month, it is a way to commemorate. Students and teachers can present African-American music, perform speeches, poems and dance… The events and activities are interesting and meaningful.
In the Black History Month 2018, the most interesting event for us was Breaking Bread. This event was organized on Sunday February 26, in Waukegan Library. It was a community meal with family-style food catered by Chef Williams of Wauk-In. Chef Williams' foods were tasty and his chicken-barbecue was very delicious. It was a nice meal. In this community meal, people discussed about current culture, student engagement, and success strategies for future generations.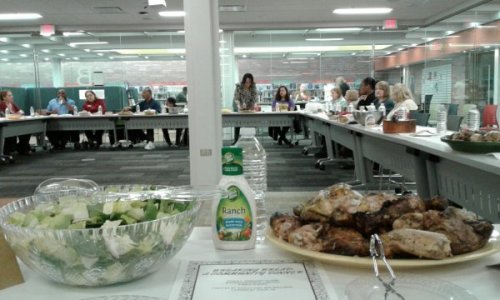 Breaking Bread in Black History Month
In the community meal, we understood about the expression "Break Bread". It means to share a meal with someone and this expression means more than just eating. It is sharing a sense of brotherhood with someone or some group of people. This expression has Biblical origins. In the modern day, people use the phrase "Break bread with someone" when talking about sharing an emotional experience along with their food. All the members of the community broke bread together and shared ideas on how to improve the area. The phrase "Break bread with someone" is to share a meaningful connection over a meal, often bringing together two people or groups.
The Breaking Bread on Sunday in the Library was a beautiful impression for us. It was a significant event that fosters some meaningful connection and cooperation.
Quy Minh