Life & English: "The greatest American architect of all time"
Được xuất bản vào Fri, 30/06/2017 - 05:28
Frank Lloyd Wright (8 June 1867 - 9 April 1959) was an American architect, interior designer, writer, and educator, who designed more than 1,000 structures, 532 of which were completed. He was the architect of the famous architecture Fallingwater , which has been called "the best all-time work of American architecture".
Fallingwater - the best all-time work of American architecture
Wright believed in designing structures that were in harmony with humanity and its environment, a philosophy he called organic architecture. Fallingwater, one of Wright's most famous private residences, completed 1937, was built for Mr. and Mrs. Edgar J. Kaufmann Sr., at Mill Run, Pennsylvania. Constructed over a 30-foot waterfall, it was designed according to Wright's desire to place the occupants close to the natural surroundings. The house was intended to be more of a family getaway, rather than a live-in home. The construction is a series of cantilevered balconies and terraces, using limestone for all verticals and concrete for the horizontals.
Wright was a leader of the Prairie Schoolmovement of architecture and developed the concept of the Usonian home in Broadacre City, his unique vision for urban planning in the United States. In addition to his houses, Wright designed original and innovative offices, churches, schools, skyscrapers, hotels, museums and other structures. He often designed interior elements for these buildings as well, including furniture and stained glass.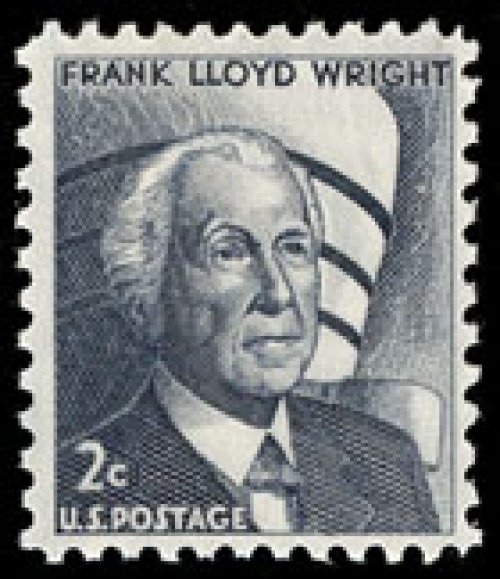 1966 U.S. postage stamp honoring Frank Lloyd Wright
Wright wrote 20 books and many articles and was a popular lecturer in the United States and in Europe. Wright was recognized in 1991 by the American Institute of Architects as "the greatest American architect of all time".
Quy Minh