Life & English: "The Art Institute of Chicago"
Được xuất bản vào Wed, 23/11/2016 - 00:23
The Art Institute of Chicago is one of the oldest and largest art museums in the United States. It was founded in 1879 and located at Grant Park in downtown of Chicago.
The style of this museum is very different to Louvre Museum in Paris, or Hermitage Museum in Saint Petersburg and others. As a research institution, this Art Institute also has a conservation science department, five conservation laboratories and libraries... The Art Institute is connected to the School of the Art Institute of Chicago, a leading art school, making it one of the few remaining unified arts institutions in the United States. In this museum, visitors can see many students with their teachers. The statues and paintings of this museum are the best lectures for the teaching.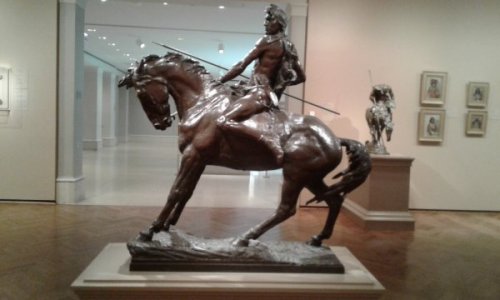 A statue of Indian American
The collection of the Art Institute of Chicago encompasses more than 5,000 years of human expression from cultures around the world and contains more than 300,000 works of art in 11 curatorial departments. The Ancient collection spans nearly 4,000 years of art and history, showcasing Greek, Etruscan, Roman, and Egyptian sculpture, mosaics, pottery, jewelry, glass, and bronze as well as a robust and well-maintained collection of ancient coins. The American Indian collection includes Native North American art and Mesoamerican and Andean works. From pottery to textiles, the collection brings together a wide array of objects that seek to illustrate the thematic and aesthetic focuses of art spanning the Americas. The African collection includes more than 400 works that span the continent, highlighting ceramics, garments, masks, and jewelry.
The Art Institute's American Art collection contains some of the best-known works in the American canon, including Edward Hopper's Nighthawks, Grant Wood's American Gothic... The collection ranges from colonial silver to modern and contemporary paintings. The Asian collection spans nearly 5,000 years, including significant works and objects from China, Korea, Japan, India, southeast Asia, and the Near and Middle East. There are 35,000 objects in the collection, showcasing bronzes, ceramics, and jades as well as textiles, screens, woodcuts, and sculptures. The collection of European decorative arts includes some 25,000 objects of furniture, ceramics, metalwork, glass, enamel, and ivory from 1100 A.D. to the present day…
Paintings of Lucas Cranach - German (1972-1553)
The Art Institute opened the Modern Wing, the largest expansion in the museum's history on May 2009. The museum's collection of modern and contemporary art was significantly augmented when collectors Stefan Edlie and Gael Neeson gifted 40 master works in 2015.
Annually, approximately 1.5 million guests visit the Art Institute of Chicago. This museum is a great interesting place.
Quy Minh