Life & English: Oktoberfest
Được xuất bản vào Thu, 11/10/2018 - 00:14
Oktoberfest is the world's largest beer festival and travelling funfair. The Oktoberfest is an important part of Bavarian culture, having been held since the year 1810. Held annually in Munich, Bavaria, Germany, it is a folk festival running from mid or late September to the first weekend in October, with more than six million people from around the world attending the event every year.
The Munich Oktoberfest originally took place in the 16 - 18 days period leading up to the first Sunday in October. Other cities across the world also hold Oktoberfest celebrations that are modeled after the original Munich event. Before the festival officially starts, parades are held with the traditional marksmen's clubs, beer-tent waitresses, and landlords participating. During Oktoberfest, some locals wear Bavarian hats, which contain a tuft of chamois hair. Historically, in Bavaria chamois hair was highly valued and prized. The more tufts of chamois hair on one's hat, the wealthier one was considered to be. Due to modern technology, this tradition has declined with the appearance of chamois hair imitations on the market.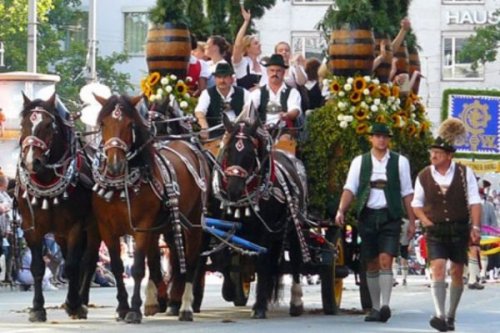 Oktoberfest parade
Outside of Germany, the largest Oktoberfest is in Kitchener, Ontario and surrounding cities in Waterloo Region, attracting over 700,000 visitors annually. The next largest Oktoberfest outside of Germany is mostly regarded as being in Blumenau, Brazil with 700,000+ visitors, Cincinnati, Ohio, US with 500,000+ visitors, and the Denver, Colorado, US with 450,000+ visitors. In New York City, there is even an Oktoberfest held under a big tent along the city's East River. However, the largest one mostly depends on specific year's numbers and varies with sources. Starting in September 2007, Montreal began hosting its own Oktoberfest.
In the United States, German - Americans are a large group. Correspondingly, there are hundreds of large and small Oktoberfest celebrations held annually throughout the country, the largest being Oktoberfest Zinzinnati in Cincinnati, Ohio. Known for its large German immigrant population, the Commonwealth of Pennsylvania and its historic Pennsylvania Dutch population are well known to have many Oktoberfest celebrations during the months of September and October. These celebrations became increasingly popular among the general Commonwealth population in the later half of the 20th century with the rise of microbreweries, and with the opening of authentic German brew houses such as Hofbrauhaus in Pittsburgh, PA. Oktoberfest in New Braunfels, Texas was called Wursfest, it began in 1961 and attendance typically ranges from 125,000-200,000 people. Other major celebrations across the United States include those at many cities in California, Arizona, Tennessee, Colorado, Indiana, Iowa, Illinois, Wisconsin, Florida, Texas, Missouri, Nebraska, New York … and many others.
Currently Oktoberfest is spreading to new geographical locations. Everyone can find Oktoberfest celebrations mixing German traditions, food and beer with local culture outside of Germany.
Quy Minh