Tele-Medicine and IT workshops in Sweden
Được xuất bản vào Thứ Tư, 22/03/2017 - 00:52
Some years before, on the ITU (International Telecommunications Union) project, we had a business travel in Sweden.
According to the ITU schedule, we flighted to Umea, a city in the north of Sweden. In Umea, a senior guided us to visit city and we joined a telemedicine workshop. He visited Vietnam sometime before. We visited a hospital and their telemedicine system. Directly saw their care for patients, their medical equipments and telemedicine systems, I understood why this senior discussed very much and very hard in Hanoi. When Vietnamese hospitals can achieve these EU medical standards and tele-medicine? Who could answer!
At Kista, the Hi-Tech area locates nearby Stockholm, we had a other workshop, according to the ITU schedule too. In this workshop, we presented about ITU telecoms rural project at Daklak province in Vietnam. We received very many questions from Sweden colleagues and we asked them so many questions too. Some questions were very hard, the answers were not easy because it was so many differences between Vietnamese rural and North European rural.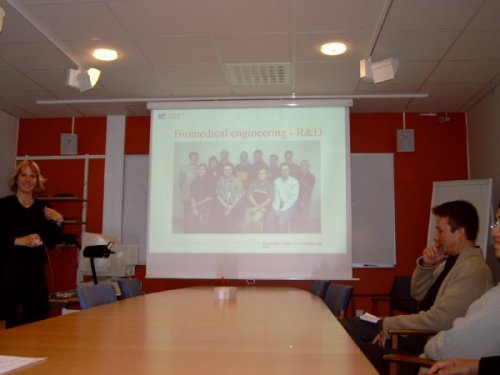 In Kista, we saw many students and researchers from Africa, Asia, Middle East… They were studying and working in Hi-Tech Institutes and companies at Kista. We joined to a workshop of IT University, where my colleague was a teacher. Many Swedish professors and foreign students, researchers from other countries, joined this workshop. A professor and his students made us surprise. During presentation, a handsome young professor (about 40 years old) turned to students and asked a pen. Immediately, a pen was thrown from an African student. Surprise did not finish yet. This young professor putted his hand up to catch the pen but it dropped. The pen dropped in the empty space between tables. The professor did not take a roundabout route or pull table to pick the pen. He flexed legs then jumped across a table, picked the pen then jumped across the table again to return his position. He raised the pen and said thank to the African student. It was a friendly style between the teacher and students. However, it was surprise for us - Vietnamese former students. From we were children, we were taught that always students should show respect for teachers and teachers should be solemn.
Quy Minh