Life & English: Incheon Airport Tours
Được xuất bản vào Thu, 11/04/2019 - 00:26
If you transit at Incheon Airport, Korea, you can discover many interesting tours from this airport. Every passenger who has connecting flight from third countries to other third countries can choose tours to visit Incheon city, Seoul city, Temple and traditional sites or shopping.
Incheon city tour will help you to visit Songdo Hanok Village, Central Park and Shopping street. The Hanok village introduces traditional beauty reserved in a modern city filled with skyscrapers. It is surrounded by neighboring tourist attractions like Central Park , Hyundai Premium Outlet, and local Korean cafes & restaurants. Songdo Central Park is a seaside park built within Songdo city. it is a green paradise found among the crowded skyscrapers in the city. In Triple Shopping Street, things to see , things to eat, things to enjoy, and various cultural amenities are all combined at this splendid shopping walkway. Visitors can visit Paradise City, it is the first Korean-style resort complex in Northeast Asia that offers a diverse range of year-round accommodations, entertainment and cultural experiences such as casino, clubs, art gallery and retail amenities. The art gallery at Paradise City exhibits more than 2,700 artworks including those of worldrenowned artists such as Yayoi Kusama and Demien Hirst.During a guided tour, you can meet 8 key artworks of Paradise City Art Gallery.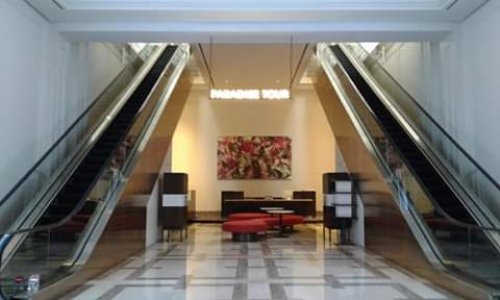 Paradise tour
If you prefer tradition, let visit Gyeongbokgung Palace and Cheonggyecheon Stream. This palace was completed in 1395and the first royal palace built by the Joseon Dynasty. Gyeongbokgung Palace was built about 25 years earlier than the Forbidden City in Beijing, China. The palace was burned down in 1592 during a Japanese invasion but was restored in 1867 during the reign of King Gojong. Insa-dong is a popular neighborhood located at Jongno, Seoul and is home to antique ships, folk art galleries and small shops selling traditional goods. Cheonggyecheon Stream running between Seoul's Jongno-gu and Jung-gu holds not only the 600-year history of Seoul but the lives and memories of Korean people who made their livelihoods around the stream. The stream was once a small watercourse hidden by an overpass but a massive urban renewal project transformed the stream and now it is one of the most popular and loved places in Seoul.
Also, visitors can visit Jogyesa Temple and Jeondeungsa Temple. Jogyesa is the chief temple of the Jogye Order of Korean Buddhism and the center of Korea's modern Buddhist movement. The grand Daewoongjeon (Main Temple) boasts splendid ornaments and golden Buddhastatues. The temple also holds annual lantern festival in celebration of Buddhist's birthday. Jeondeungsa Temple is considered the oldest temple in Korea and is known to have been built in the late 4th century, around when Buddhism was first introduced to Korea. In the 13th century, during the reign of King Wonjong of Goryeo Dynasty, the temple was rebuilt and played a significant role in the revival of Buddhism.
Incheon Airport
Other views, Lotte Mart , Namdaemun Market and Myeong-dong are interesting sites for shopping. Lotte Mart has discount stores, it located in Unseo-dong, Incheon, visitors can shop for local food, grocery, household supplies, and home appliances, with convenient access to the global refund scheme for international tourists. A food court for a brief meal is on the second floor. Namdaemun Market is the largest traditional market in Korea and the streets are filled with small shops that sell clothes, glasses, kitchen utensils, toys, iking equipment, fishing equipment, stationeries, art equipment, hats, flowers, ginseng and basically everything you can think of. Myeong-dong is filled with shopping centers, boutiques and duty free stores and is one of the most popular shopping districts in Seoul. It is where international tourists can experience Korea's latest fashion trends and various street foods.
Incheon airport and interesting experiences always welcome visitors.
Quy Minh