Life & English: Detroit Institute of Arts
Được xuất bản vào Wed, 23/05/2018 - 23:23
The Detroit Institute of Arts (DIA), located in Midtown Detroit, Michigan, has one of the largest and most significant art collections in the United States.
The DIA is the first art museum in the United States to develop an augmented reality tour using Google's cutting edge Tango technology. Experience the artworks at the DIA in a completely new way: Pick up a device at the Farnsworth admission desk, the use its built-in wayfinding system to visit 2000 year old mummy and reveal an x-ray view od the skeleton inside or stand in front the wall from the Ishtar Gate, and use device to walk through a digital reconstruction of the gates of ancient Babylon... When we visited the DIA, we saw many young students and their teachers. We listened a teacher's lecture and students' comments about an old painting. It was a very nice experience.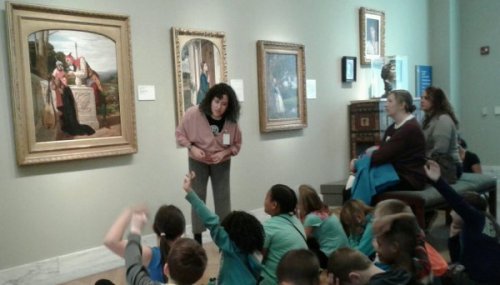 A teacher and students in the DIA
The DIA collection is regarded as among the top six museums in the United States with an encyclopedic collection which spans the globe from ancient Egyptian and European works to contemporary art. Its art collection is valued in billions of dollars, up to $8.1 billion. The DIA hosts major art exhibitions; it contains a 1150-seat theatre, a 380-seat hall for recitals and lectures, an art reference library, and a conservation services laboratory. The museum building is highly regarded by architects with the white marble as the main exterior material for the entire structure. With over 100 galleries, it covers 61,100 m2 with a major renovation and expansion project completed in 2007 that added 5,400 m2. The campus is part of the city's Cultural Center Historic District listed in the National Register of Historic Places. The DIA is among the most visited art museums in the world.
Quy Minh